The golden combination with pulled pork on a sandwich. Off course there are dozens of different recipes for this and everyone has their favourite. Personally I don't need anything but red and white cabbage (so no carrots for me).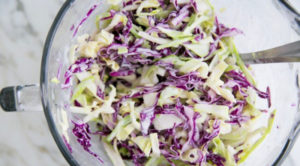 Cut 1/2 white cabbage and 1/2 red cabbage in quarters and remove the hard part in the core. Then cut in small pieces with a knife or a mandoline. Please don't grate it too small. You'll like that the coleslaw still has some bite in it.
Mix all the following ingredients under your cabbage and leave in the fridge for at least 2hrs while stirring through it every 20 minutes or so.
1 + 1/2 cup mayonnaise
1/3 cup fine sugar
3/4 cup light cream (~20% fat)
1 TB Dijon musterd
1 TB onion powder
1TB garlic powder
1 TB celery salt
3 TB white wine vinegar
3 TB lemon juice
1/2 tp grounded black pepper
1/2 tp salt
After 2 hrs your coleslaw will be perfect to serve. ProTip: I always make the full amount and put the leftovers in vacuum bags in the freezer.