My favorite campfire comfort food! I make this in my 9qrt Dutch oven and it's quite full when I do. So if your pot is any smaller, please do have a good look at the amounts. Easily feeds 6 to 8 people.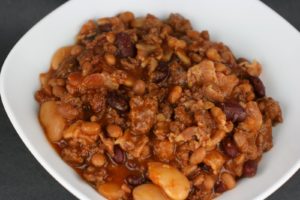 Fry 1 lbs minced beef with 1 lbs bacon lardons in your Dutch oven till golden brown. Add 3 chopped onions and fry till they are translucent. Now add all the following ingredients en stir well.
3 cans kidney beans
3 cans white beans
3 cans chick peas
1 cup light brown sugar
1 cup ketchup
1/2 cup molasses
3 tsp Dijon mustard
Close your Dutch oven and let it simmer for a couple hours over some coals or even in an oven in your kitchen at medium heat, stirring maximum once per half hour. Serve with bread.
ProTip: this can easily be made in a slow cooker as well.