Perfect finger food to pair with a good glass of beer. Ideal to get people in the mood for some barbecue. The fun part is that this doesn't take as long as your bigger cuts that have been smoking for the last hours.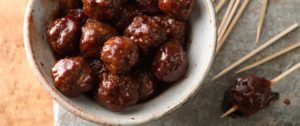 Mix 2 lbs (1kg) of minced beef with 1/4 cup of your favorite dry rub , 1TB soja sauce, 1TB Worcestershire sauce and 1/2 tsp hot sauce (Tabasco). Roll your meat in small meat balls of about 1inch (2.5cm). Preheat the smoker at 250F (120C) with some hard wood like Hickory or Oak.
In the mean time preheat 1 cup of tomato based barbecue sauce with 1 cup molasses and pour over the balls after 60 minutes. Put back on the smoker for another 15 minutes so the sauce can stick.
ProTip: if you individually wrap every beef ball in a strip of bacon before smoking, you get Moink Balls. Bacon makes everything better! I just don't always have the time for it.