A great twist on chicken kebabs. Yakitori is a Japanese form of barbecue where skewers with meat are put on a small grill with white hot coals. The cooking technique involves constant turning of the skewers due to this high temperature. There are a whole slew of traditional combinations and the one we are going to make here is the Negima ねぎま(Wikipedia), using chicken thigh meat and spring onions (scallions).
Yakitori glaze:
Mix 1/2 cup of soy sauce, 1/2 cup mirin, 1/4 cup sake and 1/4 cup water in a pan. Add 2TB dark brown sugar and bring this to the boil. You can add some pieces of the spring onion green ends (where only going to use the stalks for the kebabs). Let it simmer until reduced by half. It's best to allow this glaze to cool down.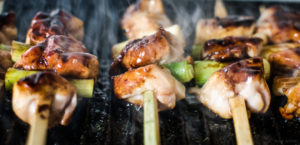 The Skewers;
Before you start prepping your meat, allow your bamboo skewers to soak up some water so they wouldn't burn immediately.
You can get 3 to 4 skewers from 1 chicken thigh, depending on their size. Remove the skin and debone the thighs. Cut the meat in 1inch (~2cm) pieces. Also cut a whole bunch of spring onions in pieces of a 1,5 inch (~3cm).
Alternate 1 piece of chicken with 1 piece of spring onion. I usually Make them quite small as an appetizer so 3 pieces of meat with 2 spring onions is perfect. Apply your Yakitori glaze generously and start grilling!
Extra; roll the skewers in some pre-grilled sesame seads.